Yes, you saw the headline correctly! You can now link your LinkedIn and Twitter profiles! AmSpirit Business Connections founder and president Frank Agin posted this Networking Rx link earlier today:
"Want to cut your social media work in half? Simple! Link your Twitter account with your LinkedIn profile. This will share your updates on LinkedIn with your Twitter profile automatically."
Here's how you can link these profiles:
Make sure you are signed in to both your Twitter and LinkedIn accounts.
On LinkedIn, click on the pull-down arrow next to your name in the upper-right-hand corner and select Settings.
Select the link Manage Your Twitter Settings.

Click to add or remove a Twitter account, and have your Twitter account displayed on your profile.
When done, click the blue Save Settings button.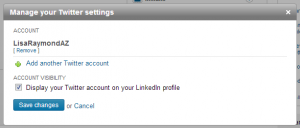 Your Twitter and LinkedIn accounts are now connected! As you post to your Twitter account, your Tweets will show up in your Home feed, as well as your connections' Home feeds.
Here's the strategy:
You can choose to only show Tweets with the #in hashtag. This means you can make strategic Twitter posts or shares to your LinkedIn network instead of all Tweets, personal or not. This is particularly beneficial to those who are very active on Twitter. Why? LinkedIn is a very professional environment that, until recently, was not very accepting of Twitter lingo and shortening of posts. The new #in hashtag allows you to strategically post or share content you feel is truly beneficial to your LinkedIn network.
If you're ready to step up your social media strategy or would like to learn how to view this new hashtag, contact me to schedule a complimentary 30-minute consultation.
Be strategic. Be visible. Be found.
A very special thank-you to Frank Agin for his generous and timely post. Click the link to learn more about AmSpirit Business Connections.
Author Details
Lisa Raymond is the owner and creative genius of Visibly Media. She has been a graphic designer and website designer since 1997, social media management & marketing since 2007, married over 30 years, 4 children, 4 grandbabies, and Queen in her organized realm of chaos! Lisa & Visibly Media do not use any AI in the creation of marketing strategies, posts, and graphics.