Casual writing for articles seems to be in these days. As a marketer and writer myself, I coach my clients to be conversational with their writing to make it easier for their audience to read, digest, remember. However, there is a difference between "conversational" and "casual".
Lately, it seems readers don't have to look very far to find abused conjunctions, such as starting sentences with the word "and" or "but". My all-time favorite abused word (very tongue-in-cheek!) is the word "so". There are also plenty of examples of other conjunctions, such as "aren't", "don't", "can't", and so on. At one point, I read an article from an online news agency that had the word "must've"! If I can find this article again, I'll update my post with a link.
The worst offenders, in my opinion, are the writers who write as they text, or, don't bother to check their spelling at all! Here is an example of a news article about the horrible stabbing of a USC professor by a student. The article is from Fox News, and yes, with a typo. While grammarians may argue with me on the use of "had" vs. "has", you can't argue the misspelling of the 2nd circled word. As of the date of this post, the word "according" has not been corrected.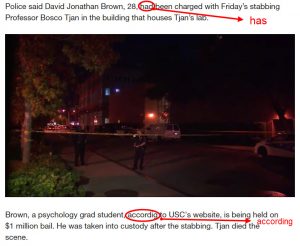 5 Tips To Write Better
Just how casual or formal should our writing be? It depends on both your writing style and your audience. If your writing is too formal and your audience is more laid back, you run the risk of the article not being read. If your writing is too casual and you're trying to attract the upper-crust C-Suite in LinkedIn, that might not work well, either. Your writing must strike a balance between both.
Here are 5 points to think about:
Simple, straightforward. Remember, your article will show up on a mobile device. That means the information should be straight, to the point content that is both snackable and shareable.
Cut the tech-speak. Save the tech-speak for technical documents. If you're going to use an industry-specific term or phrase, be sure to give a definition or explanation for it. Your audience will thank you.
Be consistent. If you use contractions, keep using them. If you switch from writing longer articles to shorter ones, let your audience know. TIP: Try long-form with short paragraphs and short sentences.
Speak-Write. Write the way you speak for a more natural tone and style. Visualize having a conversation with someone over coffee or a beer. Write like you're talking to that person.
Ask a friend to read it back to you. Does it sound the way you intended? Is the meaning clear, or clearly missing? Is there any tech-speak you missed?
The more you write, the easier the writing becomes, and you'll be able to nail down your casual or conversational style more quickly.
Ready for a review of your articles or website? Click here and let us know how we can help you.
Be strategic. Be visible. Be found.
Image courtesy of a Fox News article.
Author Details
Lisa Raymond is the owner and creative genius of Visibly Media. She has been in graphic and website design for over 25 consecutive years, social media management & marketing since 2007, married over 30 years, 4 children, 4 grandbabies, and Queen in her organized realm of chaos! Lisa & Visibly Media do not use any AI in the creation of marketing strategies, posts, and graphics.