Yesterday TechCrunch.com reported in a blog article that Facebook has decided to not allow text-based status updates from Pages. This may turn out to be a good move for Pages, as they will now need to not only concentrate more on remarkable content with updates that are media-based or link-based. This is a positive move for Pages, as Admins can now concentrate more on remarkable, strategic content.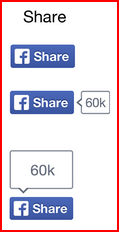 This new tweak from Facebook also means authors should use the opportunity to incorporate the Facebook share link with every article.
The best way to get your content to get read and go viral is through share links. Share links capture the headline, the first line or two of the article, the image used in the article, and a link to the full article. When sharing, you can either share directly to your Facebook personal timeline so your friends can see the content, or that of your Page so followers and Likers can read it.
Click here to get Facebook's share link button. You can also use a social media sharing app such as Shareaholic for your blog articles.
Be strategic. Be visible. Be found.
Author Details
Lisa Raymond is the owner and creative genius of Visibly Media. She has been a graphic designer and website designer since 1997, social media management & marketing since 2007, married over 30 years, 4 children, 4 grandbabies, and Queen in her organized realm of chaos! Lisa & Visibly Media do not use any AI in the creation of marketing strategies, posts, and graphics.