In case you missed the big announcement and invitation this past Thursday… THREADS HAS ARRIVED! Yes, finally! If you didn't get the invitation through your Instagram account, you can go to threads.net, scan the QR code with your phone, and download the app to your phone. You can also download the app from the Apple Apps Store or Google Playstore.
TIP: SEARCH AND DOWNLOAD "THREADS, AN INSTAGRAM APP".
Kurt Knutsson, a.k.a. the Cyberguy, wrote an article about the new Threads app, giving his insights and tips for keeping your phone safe while using the app. It's definitely worth checking out.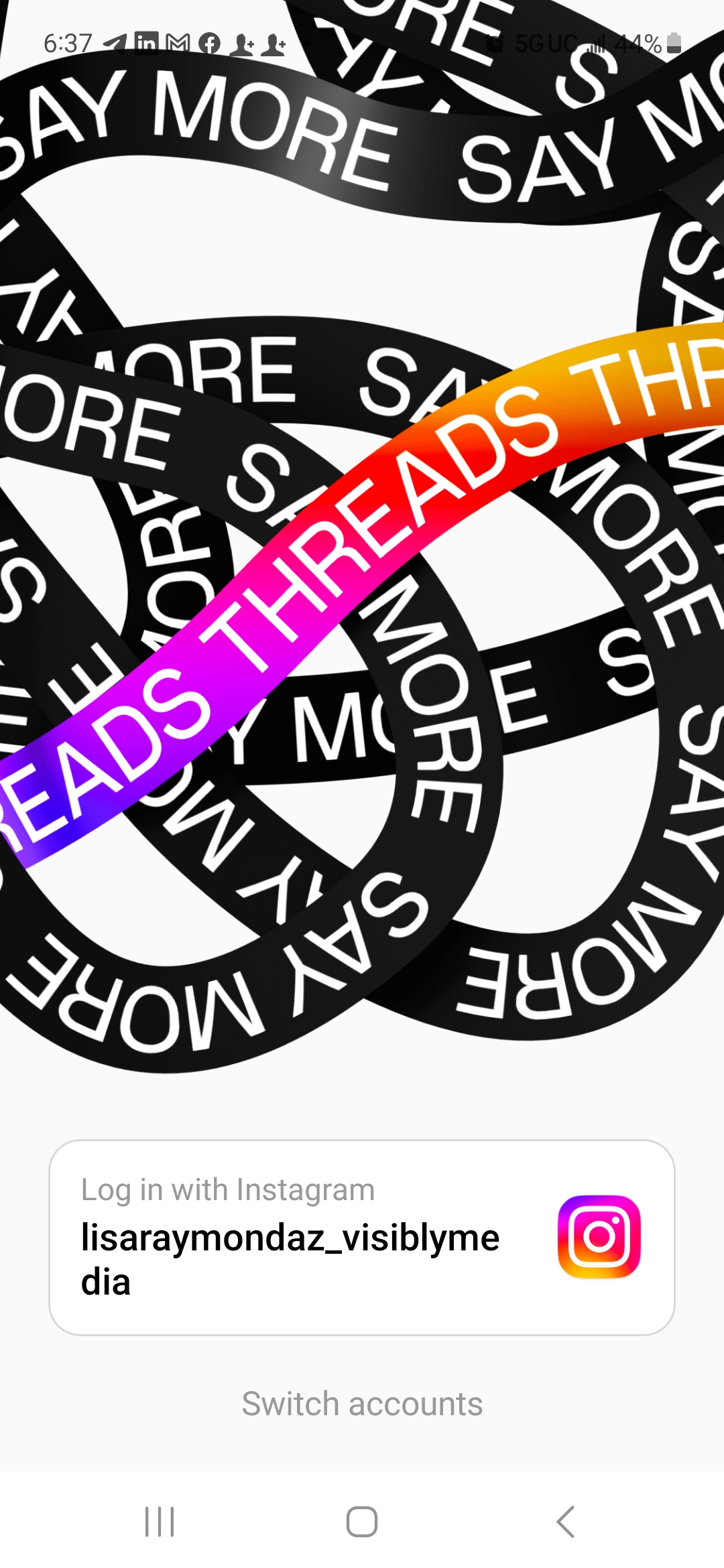 My first observations after joining Threads during Thursday's release:
The Good.
The app is very easy to install. After download and installation, you log in using your Instagram account password.
You can invite all of your current Instagram followers to follow you on Threads; you can also choose to selectively invite followers. If they don't follow you back right away, don't worry; they may not have joined Threads yet and will follow you after they join.
The program lets you know when someone follows you or invites you to follow them. Depending again on the app's settings, you may have to approve the user's follow request.
It's easy to make a thread (post) and add your photo or image and a link to the thread. Links may shorten via bit.ly, but if they don't I recommend trying out a free account.
Tagging followers is on!
The Interesting.
So far this app allows for 500 characters per post. I would expect that to change via subscription, if Meta/Zuckerburg decides that's a good strategy.
No ads just yet or the ability to create an ad. Likely this will change down the road as that option is currently available on Facebook
One new follower and I exchanged a short thread about finding your "join number" – that's the number under your Instagram profile, and reflects what number Threads user you became when you joined. The follower could see it clearly and posted about it; I couldn't find mine, so she sent me a screenshot so I could see where it was. Still couldn't find it. My guesses are (1) either this may be a feature for Apple products and not available to Android users – yet, or (2) the user may need to log out of their Instagram, then log back in to see their number.
There isn't a difference (yet) between personal and business users; I would expect that to change to offer business personas.
The hashtag function is not turned on yet so you can't tap to see other conversations around a certain hashtag. I expect this to change fairly quickly.
The Questions.
WHY did Zuckerberg decide to create a Twitter competitor? With nearly 3B active users (according to Statista.com) – 3.81B active Meta product users – and revenue from Meta Platforms in the sum of 116B U.S. dollars, it's not like Zuckerburg needs money or another platform to manage. I think it's about keeping your tribe right where you have them vs. the tribe wandering off to make a new tribe. The downside to this could be the creation of an echo chamber, but I don't think Zuck is too worried about that happening.
This platform is 100% free to use (so far). In the means of data, what exactly are we SURRENDERING? Who gets this data? What will they do with it?
As stated above, you create your Threads account by using your Instagram account. That forces new Instagram users, whether or not they wanted to use Insta, just to be able to use Threads. The app doesn't operate on its own.
Piggying off the previous bullet, what happens if by some chance Instagram goes down via cyberattack, a glitch, or some other reason? Does that mean Threaders (made that up!) couldn't use either platform?
Staying with this bullet again. If a user is kicked off Threads, does Meta then remove this user from all Meta products or just Threads? What if the Threader lost privileges to their Instagram – is the Threader removed from Threads also?
 So far I don't see anything regarding two-factor authentication. Both Facebook and Instagram have 2FA; the absence of this function in Threads is concerning.
In my opinion, the name choice is intriguing but a fail first off. When you search your Apple or Android store for "Threads", play close attention to the results; there's another app that people have confused with Threads due to the name. That's something Zuckerburg's marketing & research teams should have done a better job of discovering. It's recoverable but it will take time for adjustment. Make sure you download the right app – it's the one with the black curly thread (or white on a black background).
As Kurt (a.k.a. @Cyberguy) noted in his article, there may be some security issues that should be addressed. The fact that the EU won't allow this app to launch yet due to what they perceive are serious security issues is something to pay close attention to. Also, check your phone's settings as to what data each app is allowed to access.
Conclusion: Is Threads A "Twitter Killer"?
It's too early to tell. Zuckerberg had a huge advantage in advertising this to 3.81B Meta product users vs. both Facebook and Twitter starting up in 2004 and 2006 (respectively) at zero. It's much easier to build an audience using an existing audience.
In my opinion: NO, Threads will not kill Twitter. My prediction has little to do with the longevity of Twitter, as it had major issues when Elon Musk took over control of the company. It also doesn't take into consideration how many people were upset last weekend when Musk decided to throttle views for non-subscribers. Those who joined Threads for that reason alone are bitter that they have to subscribe vs. getting it all for free, and they're sounding off about this on – yep – Threads.
My prediction has more to do with capitalism and free market choice than anything else. In your surrounding neighborhood, take note of many businesses that are so similar but have different names and possibly a few different products or services. Why do we have multiple businesses that provide the same product or service? Because someone likes Company A, and someone else decided Company B was their choice. Those who like what Twitter now offers will stay and likely join Threads so they don't "suffer" from FOMO – fear of missing out. Those who really didn't like what Musk did or how Twitter now operates will leave. It's as simple as that.
Business is not about "one size fits all" solutions. It's about choices. There are approximately 8B people living on Earth; there's plenty of business for everyone to decide, to CHOOSE who earns their dime and time.
That's it for now. I'll make a follow-up article next week and let you know more observations. Until then, please share your Threads experience with me for my next article.
Be strategic. Be visible. Be found.
Ready to start using social media smarter, not harder? Schedule a one-on-one coffee chat over ZOOM to talk about strategically incorporating both social media and inbound strategies into your current marketing plan.
Branded ZOOM backgrounds allow businesses to not only add another option for secondary marketing but also confirm both identity and authority to prospects and customers. Investment starts at $85. Visit our webpage to get started.
#smallbusiness #businesstips #marketingtips #digitalmarketing #saturdaysocialmedia #socialmediamarketing #socialmediatips #leadershipdevelopment #humanengagement #visiblymedia
Author Details
Lisa Raymond is the owner and creative genius of Visibly Media. She has been in graphic and website design for over 25 consecutive years, social media management & marketing since 2007, married over 30 years, 4 children, 4 grandbabies, and Queen in her organized realm of chaos! Lisa & Visibly Media do not use any AI in the creation of marketing strategies, posts, and graphics.